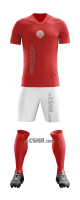 Starting squad :
Goal

2. Kiril Rakarov

(CDNA)

Goal

8. Panayot Panayotov

(CDNA)

Goal

9. Hristo Dishkov[1]

(Spartak Pd)

Goal

9. Nikola Tsanev

(CDNA)

assistance by Ivan Kolev

Goal

10. Dimitar Yakimov

(CDNA)
CDNA​ won against Spartak (Plovdiv) with result 4:1 in match from 1st round of "А" Republican Football Group 1961/62 played on 18 August 1961 at 19:00 on "Vasil Levski" stadium, in Sofia. goalscorers for the army men were Kiril Rakarov (1′), Panayot Panayotov (35′), Nikola Tsanev (43′) and Dimitar Yakimov (50′).
[1]

— the names of the opposition players, referee and players that are not in our profile database are automaticaly transliterated from cyrillic and may differ from the original spelling